News & Events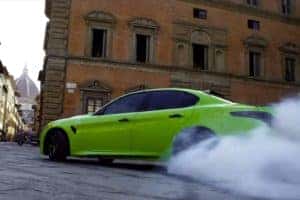 Over 150 million people are subscribed to Netflix because of their movie & TV show content, including some exclusive to the streaming service like Orange is the New Black, Stranger Things and The Crown. And one such film is 6 Underground, which has a unique Alfa Romeo Giulia in it colored in a distinct neon green shade.
From what we can see in the video above and the full 6 Underground trailer below, the customized neon green Alfa Romeo Giulia takes part in an epic chase scene that goes all around the streets of Florence, Italy and even into some iconic buildings. And based on the sound of the engine, it's an Alfa Romeo Giulia Quadrifoglio.
The Giulia Quadrifoglio is the high-performance version of this Italian luxury sedan and has the 2.9L twin-turbocharged V6 under the hood that delivers 505 horsepower & 443 lb/ft of torque. It can also go from 0 to 60 mph in an impressive 3.8 seconds, making it the ideal vehicle to chase the bad guys or have a more tame drive around town & on the highway.
Unfortunately, this customized Alfa Romeo Giulia is not available for purchase. However, we have a wide array of Alfa Romeo Giulia models in our inventory that can give you a thrilling yet luxurious ride. Find out more here https://www.alfaromeousaofarlington.com/new-vehicles/giulia/